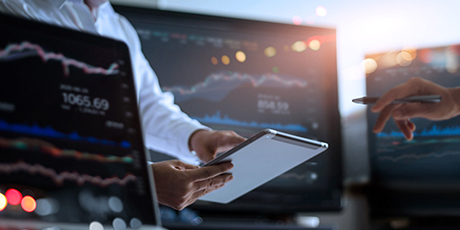 5 Challenges driving compliance cost & RegTech's influence in reducing it
The bygone decades have seen a rise in the trade regulatory requirements. While the growing regulations are intended for investor protection, it is ultimately resulting in higher compliance cost and manual workloads.
Global spending on compliance and regulatory is closely around $270 billion and 10 – 15% of workforce in the financial firms are dedicated to Regulatory Compliances. Over the past decade, regulators have asked financial institutions to undertake several modernizations on their businesses and many of the organizations have struggled with regulatory-driven transformations.
While the evolving regulations are unpredictable, the industry stress on financial firms are growing and its taking a toll on its returns.
5 key challenges that drives regulatory costs are,
1. Digital Drama
The traditional financial firms are realizing the need for digital transformation. The digital enablers are continuing to create a momentum in the financial services industry but the firms are still struggling to adapt to the digitalization.
Unlike traditional methods, the customer-friendly UI and the frictionless digital workflow contributes to the high revenue through increased adoption rate. But the cost associated with the transformation to digital is plummeting to sky high, which pushes many of the financial firms to still follow the traditional error-prone methods.
2. New Players in the market
Competitions are complex if they arise from unexpected industries, and this might create chaos and disruptions. New FinTech players are the emerging competitions to the traditional institutions and these newbies are expanding the market scope but resulting in increased compliance scrutiny. This evolving risk scenarios leads all market participants to comply with more regulations and ends up with higher compliance cost.
3. Domain Expert Resources
The system can do anything but to instruct the system and to foresee the regulations, domain expertise is required. Few organizations depend on the external researchers for industry involvements. Many big financial firms are paying hefty amount for researching and domain expertise consulting. For instance, Europe's MiFID II has regulation on external research spending and it has to be reported as research unbundling reports. So, domain expertise is the new black.
4. Stringent Regulations
Being stringent is not the worst thing in the world except it requires lot of manual workloads and error-prone processes to be tracked and reported. This will influence investor protection and avoids business risks but coping with stringent regulations is costing heavily in terms of spending among FinTech firms.
5. Adapting to Evolving Regulations
Regulations are not a one-day deal; it is an evolving framework. Still MiFID II implementations are not fully done but talks are going on about MiFID III. When the regulations are evolving, the framework needs to be scalable and the technology has to adapt. Driving efficiency for the new regulations can be tougher for the financial firms but with the right FinTech provider, it can be solved.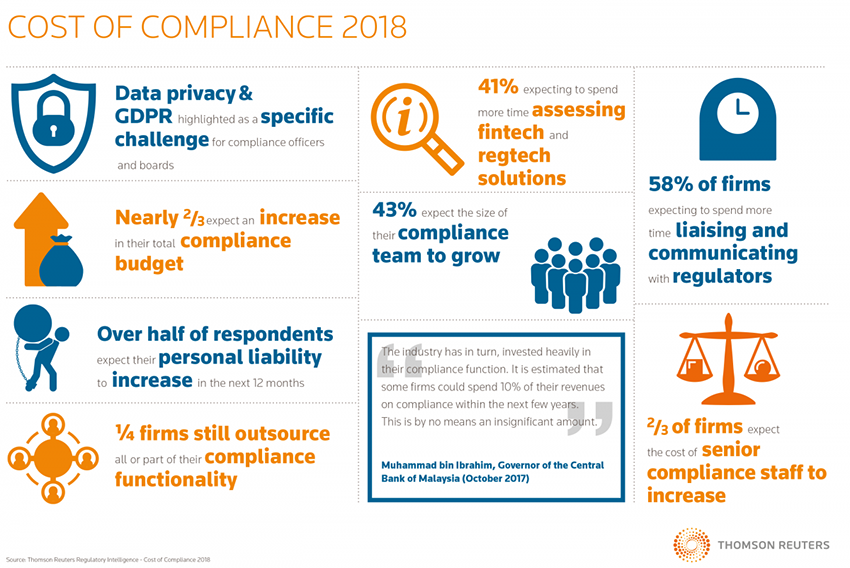 Source: Thompson Reuters
How does RegTech influences in reducing your compliance cost:
Identifying the best player in the market:
The RegTech solution provider should be an efficient all-round player in the market and should have the capability to optimize your operational model with the managed services. Also, the transformation and the integration should be done seamlessly, which will minimize the manual efforts of the regulatory team and the provider can enable seamless automated process to achieve high performance.
Depending on emerging technology solutions to beat the heat:
Financial services and technology companies, use emerging technologies to address key pressure points, reduces cost, and mitigate risks. A successful RegTech strategy extends to engage with the firms and the regulators to test and scale solutions faster with operational efficiency, which can reduce implementation cost of enabling the evolving regulatory requirement framework.
Advisory, consulting and staffing with RegTech domain expertise
The consulting services should be focused on establishing and sustaining values for you. RegTech solution provider should develop coherent plans to enhance processes, address issues and assist in implementing measurable and sustainable performance enhancements. The domain expert consulting can reduce your operational cost and improve your business values.
Pre-defined initial regulation check
Financial institutions should deploy initial-level of regulatory checks to validate the data required for regulatory reporting. RegTech solution should authenticate the data while retrieving it, instead of validating at the final stage. This feature can prevent huge manual intervention and saves lot of time.
Automated end-to-end regulatory process
The entire trade regulatory processes should be streamlined and automated, which should simplify operations and create business values for you. This automated regulatory processes can help ease your complex regulatory challenges and enable focusing on your day-to-day operations.
Regulatory Technology (RegTech) established a solid foundation within the FinTech ecosystem to overcome this and come up with solutions that are targeted to new and complex regulations, litigation and regulatory remediation areas faced by financial institutions (FI), combined with overall reduction in cost compliance. RegTech is a seamless way for Financial institutions to meet these requirements, without the need to overhaul their existing models entirely. RegTech is poised to be the future of facilitating compliance management and minimize regulatory risks.
Despite overcoming these challenges, financial firms should be equipped with technology enablement to achieve operational efficiency. These technologies should be more adaptable, configurable and scalable to the existing regulatory systems, which should enable investor protection and avoid business risks.