Sensiple is a leader in providing test automation services and has built a dedicated Automation Center of Excellence backed by a decade of experience in executing test automation engagements for global clients with a large pool of test automation experts. Sensiple's test automation strategy enables organizations to increase their release velocity, reduce time to market, and reduce overall testing effort resulting in a significantly faster Return On Investment (ROI).
Key Services:

Automation Assessment, Advisory & Transformation Services.
Automation Test Suite Development & Maintenance.
Gap analysis and perform smoke tests to determine the feasibility of automation.
Tool Assessment Study: a selection of the right tool based on the application.
Fully managed service automation: execution on-demand using our SWIFT Test Automation Framework/Accelerator.
On-site Consulting Helping to build the right automation testing framework solution.
Health Check: We assess the quality of existing automation solutions and make suggestions for optimization.
Readiness Assessment: We assess the readiness for test automation and help to optimize the testing process.
Proof of Concept: We produce a technical feasibility study, to ensure that the automation solution is efficient within the client environment.
Framework Design and Implementation: We plan and build a robust automation testing framework.
Advisory Services: identity, improve and develop the right automation strategy for business needs.
Automation Feasibility Assessment: Helps in selecting the right application for automation with faster ROI.
End-to-end Automation: Test automation for the entire business processes spanning multiple applications and systems.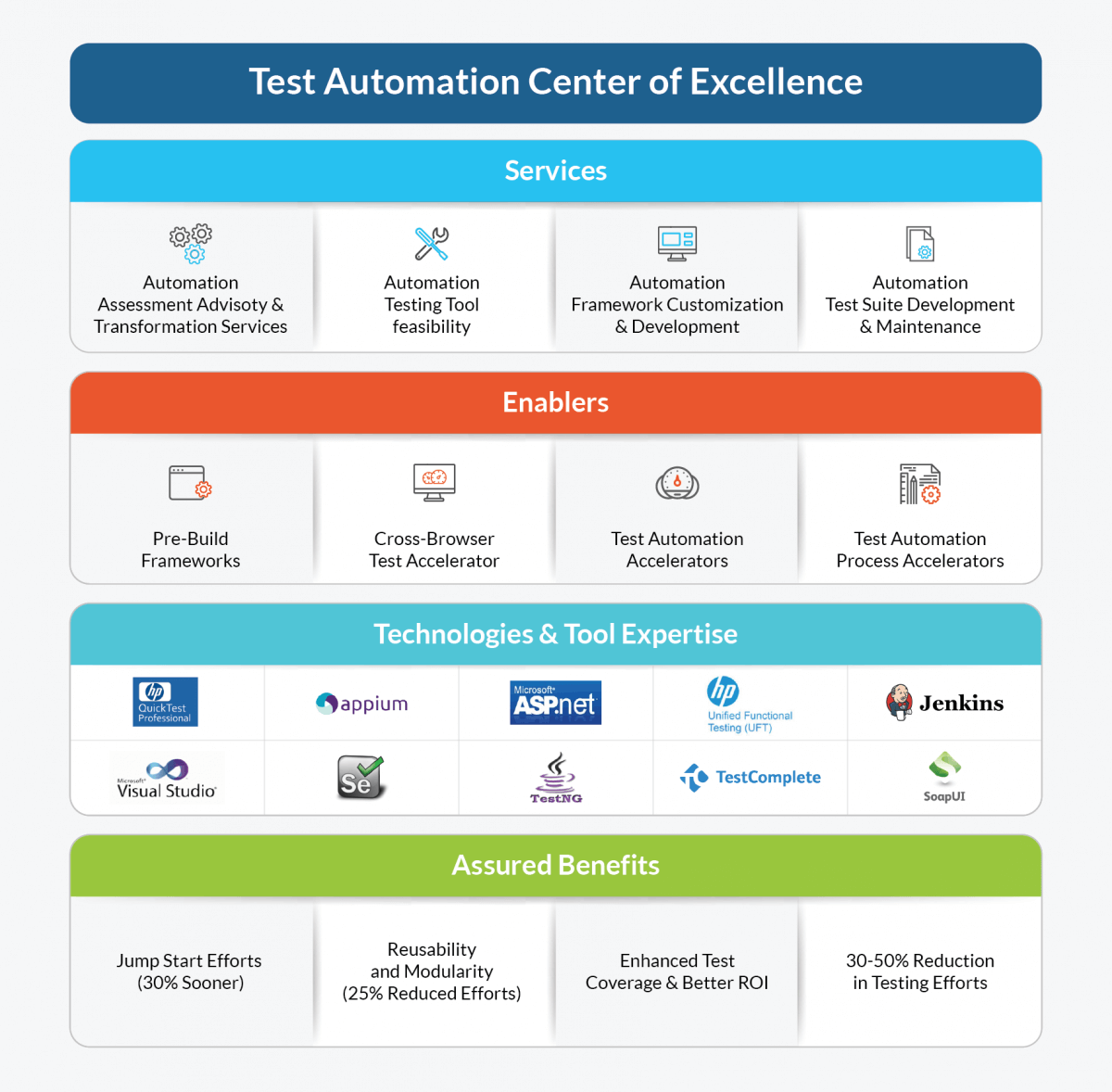 Methodology and Framework:
Sensiple utilizes proprietary test techniques to identify automatable test suite from manual test cases. Sensiple test automation methodology is well accustomed to Agile environments ensuring consistent ROI during the entire agile life cycle.
Sensiple test automation specialists focus on long-term utilization of the suites while implementing automated test suites. Our agile-based test automation activities comprise:
Lean and Small tests to lower the maintenance
Loose coupling of tests & data
Continuous reviews to make sure the test suites are "green" and reduce the test failure analysis and maintenance time
Analyzing opportunities for in-sprint and delayed automation
Supporting multiple regression tests during each iteration
Maintenance of an automation backlog
Prioritize candidate test cases
Test Automation Frameworks
Sensiple's Widely-Integrated Framework for Testing (SWIFT) is geared towards productivity through an optimized test automation life cycle. It is a tool-agnostic, platform-independent solution that supports data and keyword-driven tests, enabling the non-technical users to validate the business process automatically.
The technology behind our framework design:
CI server tools – Jenkins, IBM-UCD, Bamboo
Test management tools – HP ALM, HP QC, QA Complete, JIRA
Test automation tools – HP QTP, HP UFT, Selenium, Test complete, Ranorex, Appium, Cucumber, Calabash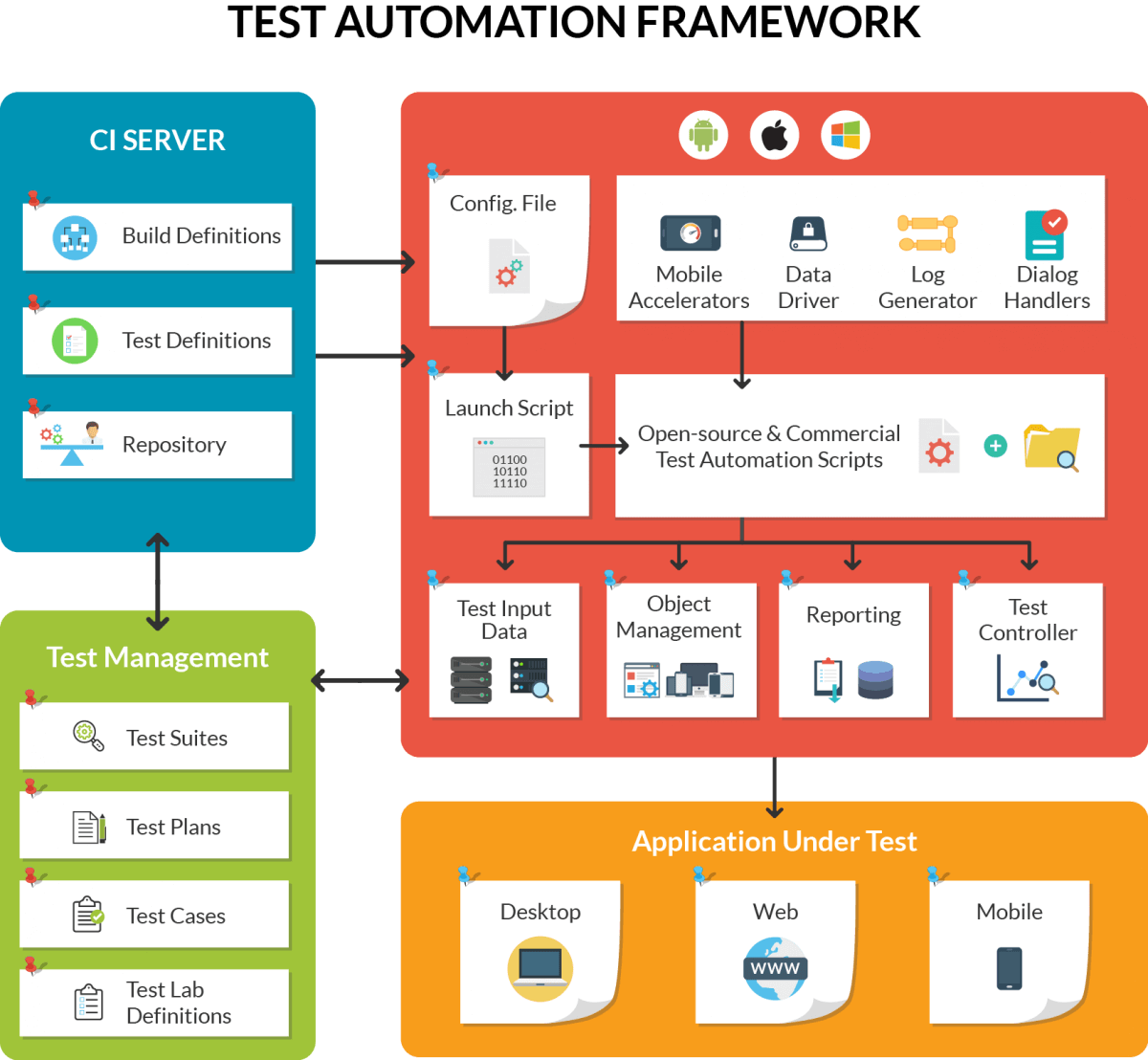 SWIFTest:
Test Accelerator for Web Applications
Sensiple's Test Automation Accelerator (SWIFTest) helps to improve the performance of automation testing. It empowers non-technical business users and manual testers to create an automated test process and test cases with minimal scripting knowledge. The underlying Selenium-based framework generates automated test scripts that will be useful for building and executing the regression test suite.
SWIFTest helps clients overcome automation challenges, and speed up their functional and regression testing. This robust framework helps to develop test scripts in an easier way reducing the dependence on highly skilled testing personnel.
SWIFTest enables end-to-end test automation of applications developed in web technologies.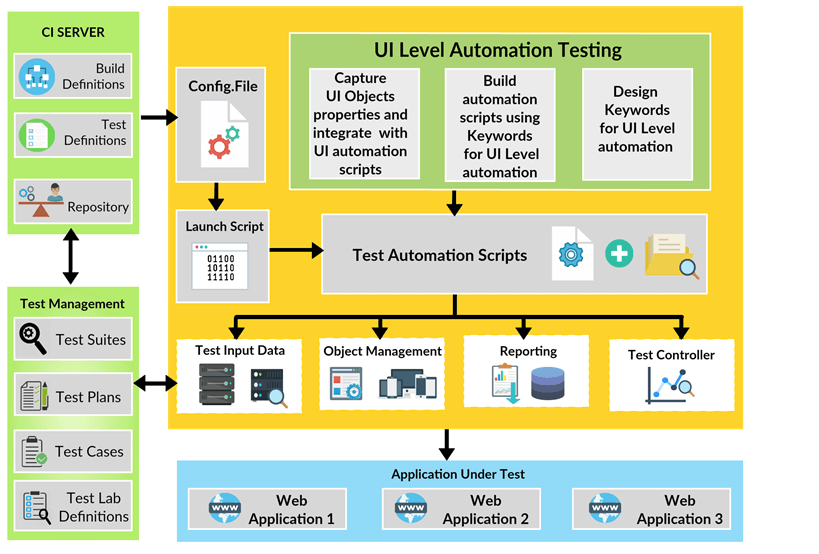 Key Features

Faster time to market and increased ROI: Leveraging a pre-built framework, thus reducing initial investment and advancing the realization of returns. It provides a definitive competitive advantage and helps to route the cost savings to other IT and business initiatives.
Pre-built function libraries: They enable the generation of automated scripts after documenting the logical flow of test cases, thus reducing the cost of developing an automation test suite by up to 30%.
Reusable business components: Reuse of application objects and test steps, enables higher re-usability and reduced effort during maintenance, thus saving time, money, and effort needed for testing.
End-to-End automation framework: Scalable and extensible automation framework covering web application technology and ensures lower cost of investment and faster ROI as the framework is well defined, robust, easy to use, and scalable.
Automation methodology: Development cost is reduced by enabling business users and manual testers to develop automated test scripts.

Customer Benefits:

Save time by starting the cycle early. This enables business testers and automation experts to work in parallel.
A highly user-friendly graphical user interface (GUI) is provided for non-technical experts.
Break-even point of investment can be achieved in 3-4 test cycles and a 30-40% reduction in overall automation effort.
Less code to develop and maintain.
Provides high flexibility in maintaining scripts.
Automated regression test execution is 54% faster than the manual testing process, thereby improving time to market and results in higher confidence in deliverables.
Standardize automation process for test suite creation, maintenance and estimation tasks based on generic framework approach.
Key Differentiators:

50 + test automation experts
Relevant business models, outcome managed, unit-based, efficient and measurable
100% Certified testing professionals (ISTQB, HP, CSM, SCRUM, Pega: CSA, Genesys)
Proven solution accelerators, flexible engagement models, testing tools and methodology
Best ROI using proprietary frameworks and in-house test accelerator
Successfully delivered more than 35 + automation projects for major US-based companies in healthcare, financial and logistics domains
Effective testing methodology and excellent service management
Nearshore facility to enhance flexibility and reduce the overall cost