In today's digital business world, organizations should invest more in innovation and quality assurance for their applications to stay well ahead of their competition. They need a reliable software testing partner who can assess their testing requirements, refine test practice and advise on a testing roadmap in line with their business needs.
Our Approach:
To achieve quality, you need a diligently planned test strategy and implementation. Also, the right test infrastructure with the right people and the right skill sets are crucial to offering high-standard services and solutions.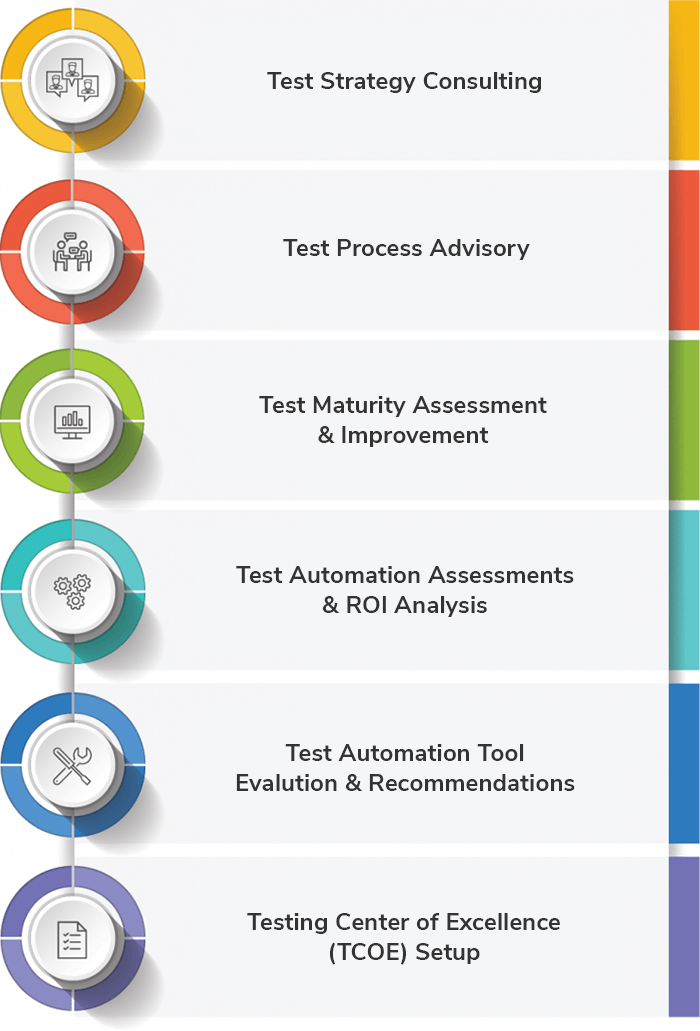 Sensiple's test advisory services are built on extensive consulting experience and technological expertise. We ensure that a robust testing function is established with assured outcomes focused on ROI, customer experience, and business alignment, to make sure your testing function meets business objectives.
Sensiple skilled pool of assessment experts with extensive industry testing expertise works closely with all key stakeholders. The engagement covers all key testing disciplines like test management, test process, digital, automation & non-functional areas. Key objectives & priorities are set by identifying gaps and comparing them with industry-standard KPIs. Our Advisory Services aim at delivering value-added engagements and ensuring high performance of your software.
Test Strategy Consulting:
The better managed and implemented testing strategy can yield better-projected output. To ensure a risk-free and value-driven delivery, it is critical that organizations define and implement a testing strategy that is in line with the business goals and aspirations of the organization. A holistic testing strategy is, therefore, an imperative to drive testing projects on time and within budget.
Sensiple's leading test advisory aids to shape & perform an active structure and strategy to increase your enterprise-wide testing competences. We deliver quality assurance consulting to clients, as well as help in refining a prevailing testing group or testing methods. Sensiple's well-defined test strategy can help you identify quality upstream issues and help reduce the overall cost of quality.
Focused on maximizing your ROI, we formulate our test strategies to identify the functional as well as non-functional requisites of software and provide the details as to how they will be authenticated and confirmed.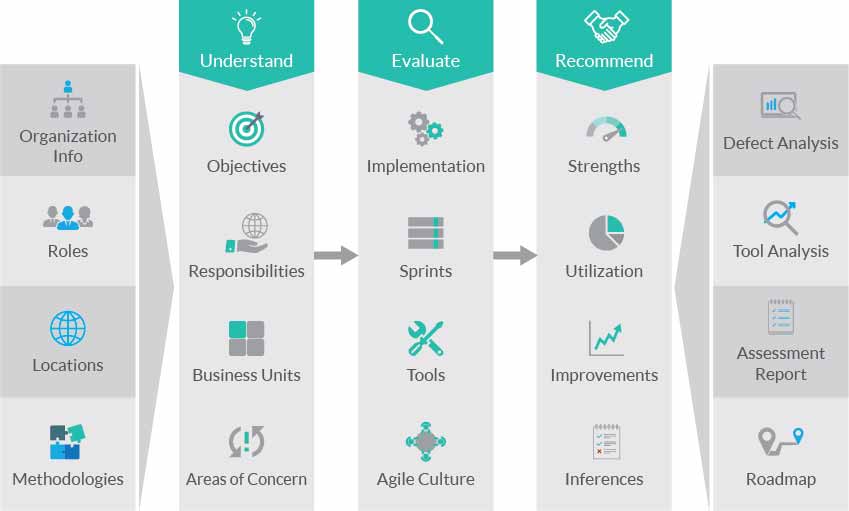 Major Activities

Understanding and assessing the client's current testing practices
Evaluation and execution of the testing procedure
Assessment and selection of automated testing tools
Suggestions on best practices of automation testing
Setting up a specialized independent testing team
Review of software risk
Defining large engagement Test strategies and plans
Documenting the finding and recommending improvements to best testing practices
Facilitate regulatory and compliance changes to ensure the flawless end-user experience

Benefits

Provide you with a reliable level of quality through consistent execution
Leadership can objectively gauge the success from investment in quality
We help you build a proactive strategy for quality
Customize the incremental improvement plan to ensure the continued realization of benefits
Provide focused, feasible recommendations and a prioritized improvement plan that support an efficiency improvement program
We deliver a meticulous assessment of the current testing practices with minimal disruption to the operation of your organization
We provide dashboards on the gap analysis of the current situation and optimal levels of test maturity
Test Maturity Assessment:
We bring efficiency to your testing strategy by providing insights into your testing maturity. Our Quality Assessment and improvement services include designing a QA process roadmap detailing your short term and long term tasks and key objectives and also a time and cost estimate for the relevant process changes to streamline your QA process.
Our Approach
We help you develop a testing organization that enhances performance efficiency and effectiveness, addresses your key test execution challenges, and delivers significant productivity gains. We provide a clear and objective assessment of the relative maturity of your test processes and structure and give practical recommendations based on our study.
Benefits

Improves the effectiveness and efficiency of your test activities
Reduce errors, by identifying bugs earlier
Improved automation in your testing solution
Ensuring the usage of best-fit testing tools for executing and managing testing
Increase awareness of internal processes
Progressive reduction of testing time and cost
Continuous Improvement through regular monitoring of on-going processes
Test Process Advisory
Test Process Advisory services help you assess your test processes and practices using industry benchmark data and models like TMMI / TPI. Sensiple helps to ascertain a client's current testing maturity level and provides a road-map to transform to a higher level of maturity.
Major Activities

Comprehensive SWOT analysis of testing practice
Metrics-driven QA & testing framework
Early detection of defects through continuous testing alongside development would maximize ROI
Standardization of test approach, templates, and reporting
Test project planning and coordination
Improved skill competency, resource scalability, and optimization
Reduced time to market through predictable delivery cycles
Adherence to regulatory compliance sustaining the business reputation

Benefits

Improved processes and operational efficiency
Focused on critical system aspects including planning, defect tracking, performance metrics, test automation, execution, and reporting
Better IT & business alignment
Improved agility & Test Coverage
Optimized resource and tools utilization
Adherence to customer requirements while maximizing ROI on QA
Test Automation Assessment:
With the experience of advising clients on test automation and architecting their automation journey, Sensiple is one of the leading automation testing services providers who help you realize the value you always wanted through test automation. Our test automation solutions aim at aligning your automation strategy with your enterprise goals.
Our Approach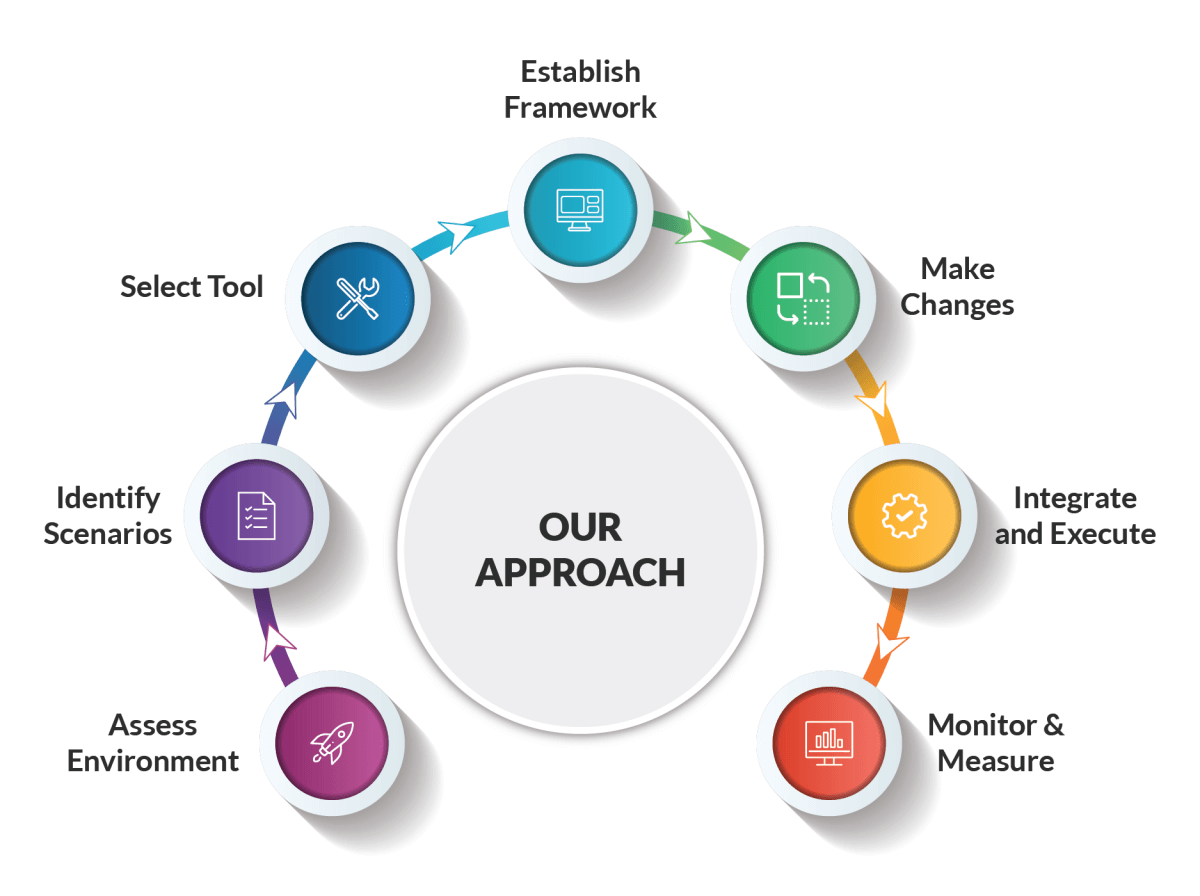 Benefits

Faster automation development, saving a minimum of 25 to 35% on automation effort enables quick turnaround for automation suite readiness. Low test maintenance with a saving of 20%, gives early ROI as compared to Automation using other traditional frameworks
Automated regression test execution is 54% faster than manual testing process, thereby improving time to market and results in higher confidence on the deliverable
Scriptless automation development: Changes made to business logic and screen changes can be managed through externalized excel sheets without changing scripts
Minimal/No dependency on technical automation developers: the Manual testing team can Start and Pause the test execution, perform tasks like fixing test data, field identifiers and rerun the scripts
Automation process can be started on application undergoing changes by the usage of Sensiple Swift framework and there is no need to have up and running application for Automation development and maintenance activities
Standardize automation process for test suite creation, maintenance and estimation tasks based on a generic framework approach
Automation Tool Assessment
In the IT industry, various types of software testing tools are available, either proprietary or open-source. The selection of testing tools needs to be done thoroughly to ensure test automation success. With experience and expertise in automation, Sensiple helps clients to pick the right automation tool and valid automation approach.
Sensiple approach for Tool Selection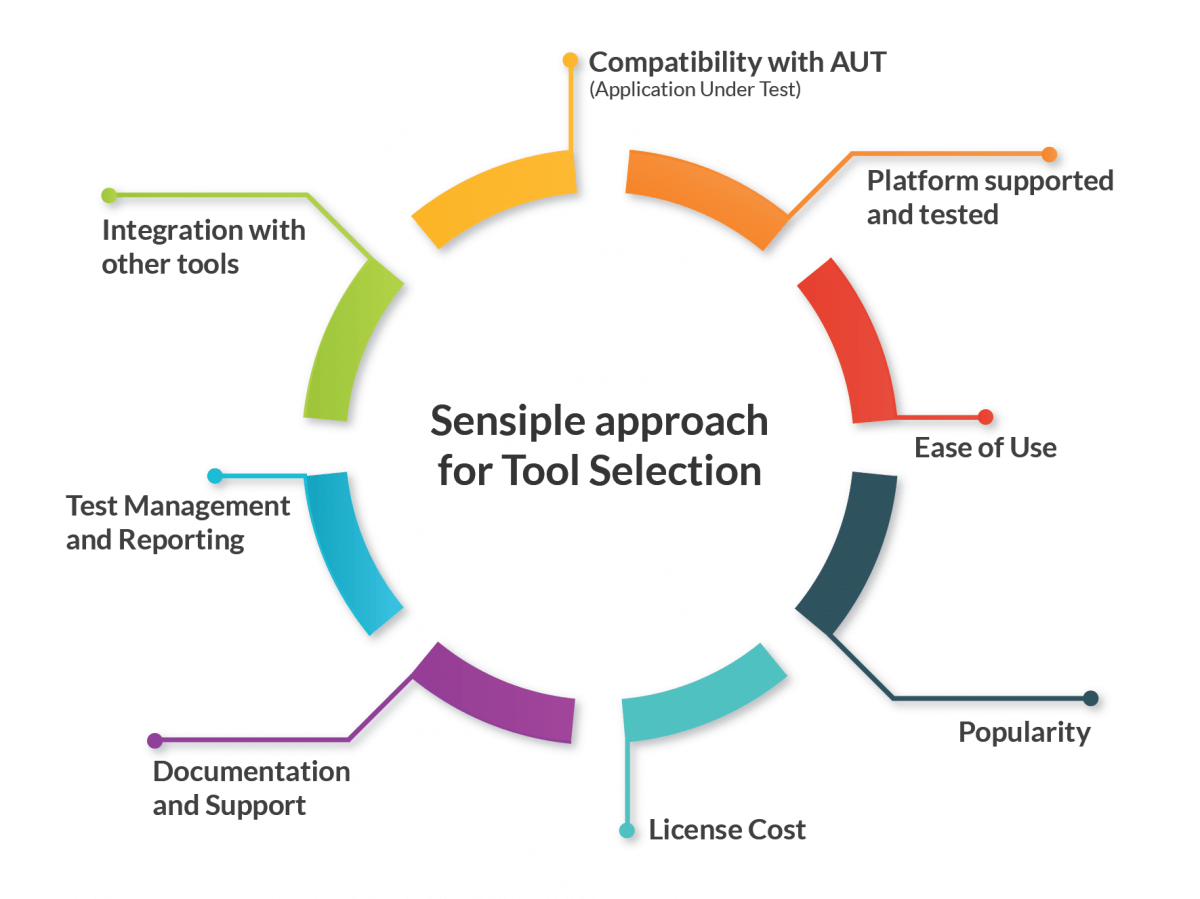 Create a Decision Analysis Report
Based on the above factors, Sensiple defined a formal template which will be helpful in evaluating functional automation tool concerning factors considered for selection.
Our approach to choosing the right tool can help an organization in the following ways:
Benefits

Reducing time to automate
Increased reusability of code
Reduction in maintenance cost
Higher ROI