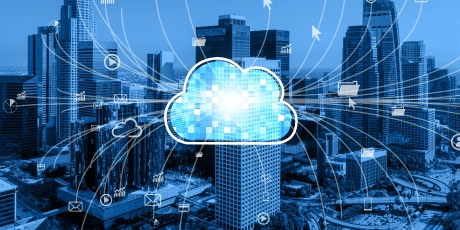 Deciding factors for a cloud contact center solution
Everyone is moving to Cloud Contact Center, but why?
Cloud-based contact centers are quickly becoming the preferred option for many organizations. Cloud-based contact center is a unified solution that empowers businesses with the capability to centralize their customer communication across multiple channels. They deliver a better customer experience (CX) while simplifying operational efforts and lowering overall expenses by embracing cloud & AI.
Given the abundance of alternatives on the market, selecting the right cloud contact center solution takes time and effort. Sensiple can assist you with this complex process. In this article, we will look at some of the criteria businesses should consider when choosing a cloud contact center solution.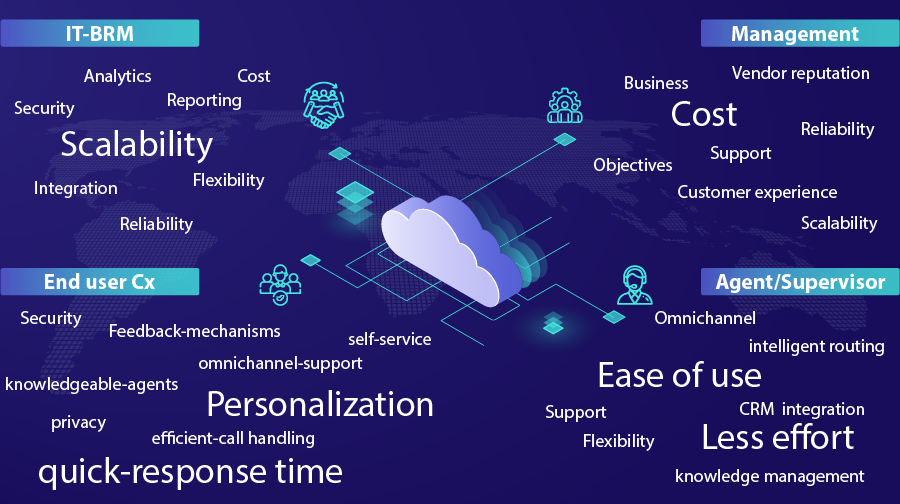 Scalability and Flexibility: Your cloud-based contact center needs to grow and adapt alongside your company. A cloud contact center system can scale up or down fast to suit changing company demands. It allows adding or removing agents, features, and channels as needed. Businesses should seek a solution that can interface with their existing applications and technology.
Omnichannel Support: Customers expect a consistent and seamless experience across all channels, such as phone, email, chat, social media, and messaging. As a result, businesses should choose a cloud contact center solution that supports all these channels and enables them to manage interactions across multiple channels from a single platform.
The system should provide real-time monitoring and reporting across these channels allowing effective administration and analysis of customer interactions. Organizations that use omnichannel communication methods have 91% higher year-over-year client retention.
AI-powered Features: Due to advances in artificial intelligence (AI) and machine learning (ML), cloud contact center systems may now include sophisticated capabilities such as Conversational AI (voice & chat), sentiment analysis, and predictive analytics. These features can boost agent efficiency, decrease client wait times, and give valuable insights into consumer behavior. Businesses should choose a solution that has AI-powered capabilities that can be tailored to their unique requirements.
Security and Compliance: Cloud contact center solutions store sensitive customer data, such as personal information, payment details, and call recordings. Therefore, organizations must ensure that their chosen solution is secure and by industry regulations, such as GDPR, PCI DSS, HIPAA, and CCPA. The answer should provide powerful security features, such as encryption, multi-factor authentication, and access controls to protect customer data.
Analytics and Reporting: Cloud contact center solutions should provide real-time analytics and reporting capabilities to help organizations measure performance, identify areas for improvement, and make data-driven decisions. Customizable dashboards and reports should be available to provide insights into agent productivity, customer satisfaction, and call center operations.
Cost-effectiveness: While cost is not the only factor to consider when choosing a cloud contact center solution, selecting a solution that gives the right value for money is also essential. Organizations should consider the total cost of ownership (TCO), including the upfront costs, ongoing maintenance costs, and the cost of adding or removing agents, features, or channels. The solution should also provide transparent pricing with no hidden costs or fees.
To summarize, enterprises must choose the correct cloud contact center solution to deliver exceptional customer care, boost agent efficiency, and acquire valuable insights into consumer behavior. Organizations should consider scalability, omnichannel support, AI-powered capabilities, security and compliance, analytics and reporting, and cost-effectiveness when choosing a solution to their unique needs.
Why move to Cloud Contact Solutions with Sensiple?
Sensiple provides Contact Centre as a Service, a customized suite of contact center solutions (CCaaS). It is time for your organization to implement a CCaaS solution, and Sensiple can help you with cutting-edge technology by improving both client experience and operating expenditures.
If you've read thus far and are still trying to figure out a solution, what does Cloud Contact Center have outside a traditional Contact Center Setup? What is the context of scalability, flexibility, reliability, AI, etc., in a Cloud Contact Center? Should you move to the cloud now? Is it too soon and already late? contact us immediately.
Sensiple's full-stack cloud contact center experience through consulting, finalizing, Hosting, building, and servicing the solution. This would enable organizations to perform multi-channel customer interactions, supporting voice conversations, video, social media, email, SMS, chat, and other standard communication channels. Sensiple has decades of expertise in the Contact Centre industry, as seen by our client testimonials. Explore our products and decide for yourself which suits your requirement.
Recommended Products
About the Author

Yuvaraj Manohar is a Senior Manager at Sensiple with over 16 years of experience in the Contact Center Domain. As a member of the Product Management & Solutioning team, Yuvaraj has worked with Sensiple's product – ConverSense & InteliSense. His primary focus area for the last 1+ year has been developing & leveraging services offered by Google. He and his team have built the ConverSense on top of Google's CCAI Solution which is coupled with lot of cloud accelerators to helps to deliver a great customer experience.
WordPress Blog Page Link
https://blog.sensiple.com/2023/03/17/deciding-factors-for-a-cloud-contact-center-solution