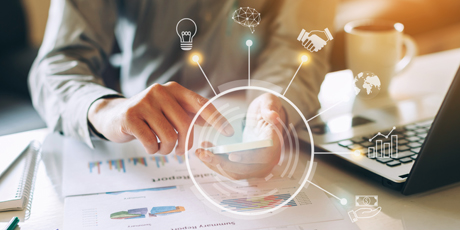 Digital Wealth Management - A critical component of enhanced Customer Experience
It was in 1970 that Charles Robert Schwab broke the tradition of Wall Street brokerage firms by undercutting the brokerage by $70 per trade. The tradition of providing discounted fees in the capital market has continued ever since. Discount brokerage firms, even after a few decades of the first instance, tend to steal prospective assets of traditional Wall Street firms by luring customers with lower fees or by providing more control of their savings.
The capital market today is on the verge of another turning point, posthumous the financial crisis of 2008. The new generation Fintech firms are trying to restructure the existing models of wealth management. Owing to the digitization and significant economic changes globally, the wealth management industry is facing a tremendous change. From coping up with the digital challenges of the fintech to matching pace with the ever-increasing regulatory burden and balance the dynamic customer needs, wealth managers are under constant pressure on multiple fronts.
On the other side of the coin, the traditional boundaries between various wealth segments have begun to blur, and the wealth accumulation and management are congregations together. Moreover, retail investors are asking for more digital technologies that are delivered in a simple, intuitive, and digital fashion. The wealth management industry hence needs a digital leap that will smoothen out the operation. The smoother the process, the better will be the customer experience.
Different buying behaviours of Millennials and Previous Generation
In regards to their buying behavior, millennials are quite different from their previous generation. The dealings of traditional wealth managers were far more formal somewhat restricted, while the new age clients prefer to have transactions outside boardrooms. Relationships with clients had always been a common factor, but the difference is that there is now a computer between the client and a wealth manager! Mobile application for trading is also rising in vogue.
Wealth management firms, therefore, are looking for dynamic trading solutions that can interact and share information with their customers to give them a better customer experience. Over the period of last three years therefore there has been a large adoption of Automated digital advice platforms.
Read more about Mobile trading on the go!
How digital wealth management improves CX?
Digital wealth management to define precisely is an amalgamation of digital tools that enable financial advisors to create unified client experience across all user devices and platforms. Digital wealth management helps in increased engagement, nurture collaboration, and assist in improving financial assets. Business areas across all industries have a positive impact on the implementation of digital wealth management. The following are some aspects where digital wealth management enhances CX.
Automation and self-service - Sometimes, customers required some basic answers for their requirements, and for that, they prefer instant information through phone or internet. Digital chatbots are an efficient answer to such situations.
Productive recommendations - Technologies such as machine learning can help wealth managers to scrutinize the client's requirements and make potential recommendations that can meet the set goals more efficiently.
Easy accesses to external information - With the new digital platforms in practice, integrating existing applications with third-party data providers can be done faster and easier. Hence, the clients can have an efficient portfolio management with better insight about their retail investments, mutual fund etc.