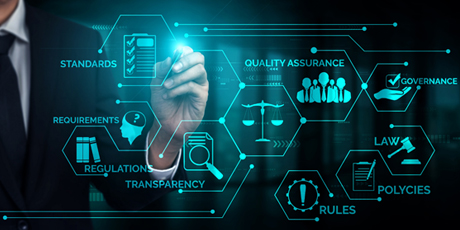 The Emerging Approaches for Preventing Money Laundering and Financial Crime
Of lately, it has been quite a roller coaster ride for the Fintech ecosphere. The more the financial industry started digitizing itself, the more cases of money laundering, and financial crimes came into light. The ways of money laundering have become so complicated and sophisticated that sometimes even the vital financial institutions supported by adequate systems are unable to identify them. Hence the financial regulatory bodies worldwide took the call themselves and have been strict on their regulation and sanctions ever since. The compliance rules are also regularly updated to track down changing forms of monetary fraud.
AML is the need of the hour
Remember how in 2018 banks like Nova Ljubljanska Banka, Credit Suisse, and Commonwealth Bank of Australia, had to pay a record penalty of AUD700 for failing to follow anti-money laundering (AML) and counter-terrorist financing laws. The most significant monetary scandal by the Danske Bank of amounting EUR 200 bn in 2019 also pointed out the shortfalls of the regulatory compliance rules. The present time is nothing better despite the implementation of strict compliance rules and policies. Both banks and regulatory bodies agree on the fact that even with the implementation of complex AML and compliance programs, the situation has not bettered. Criminals tend to exploit every weak link of the financial institution they can find.
Manual intervention does not detect the tremendously complex money laundering activities, so, both banks and regulators emphasize Artificial intelligence and Data Analytics to chop off the rates of financial crime. Fortunately, enough the global financial regulators are encouraging this act! For example, all the five financial regulatory bodies of the United States in one of their press releases urged the banks to invest more in AI and other contemporary technologies to strengthen their AML efforts. These technology-based tools are enabled with precise detection ability and can easily find any hidden links between the sender and the receiver. They are also capable of finding out the interconnected transaction of money-laundering activities.
Trending approaches for prevention of money laundering and financial crimes
Many new approaches were introduced in the latter part of 2019 to strengthen the scope of AML compliance in financial institutions. For example, the European Banking Authority (EBA) announced that AML should be the top priority for the FI's in their jurisdiction as money laundering and terrorist financing are emerging a primary risk threat. The critical focus of RegTech hence is to develop a solution that analyzes the collected data and incorporates human intelligence with advanced technology. The achievements to date are just "tip of the iceberg" for the coming days.
We have enlisted some of the key trends the Fintech ecosphere will experience in the coming days.
More knowledge of Ultimate Beneficial Owners (UBO) – The Panama Paper leaks have revealed how criminals conceal money laundering via pseudo companies and offshore structures. This year, the global RegTech focus will be to ramp up solutions that facilitate UBO transparency in fulfilling the legal decisions of the previous year.
Overhaul of existing Regulatory Regimes - The reveal of the Danske bank scandal previous year revealed how alarming the level of money laundering goes unchecked through the banks. So, 2020 will be a year with more stringent rules and regulations on the compliance aspect. Predictions are that The UK will emerge as a leader in fighting financial crimes by introducing its AML legislation bill.
Crypto-businesses implemented with standard AML rules – For years until now, cryptocurrency has put all the AML efforts in vain. Regulatory bodies worldwide have decided that time has come to strengthen the restriction on crypto transactions, and for this purpose, data mining has a lot of emphases. In this regard on 10 January 2020, the EU implemented its Fifth Anti-Money Laundering Directive (AMLD5), which will scrutinize cryptocurrency exchanges with AML obligations.
Rise in Demand for Automated AML - Performing manual AML checks consumes a lot of money and is not arguably error-free. Manual AML monitoring further results in false positives, which delays and makes customers onboard and process payments very difficult. Hence, financial institutions are driving the implementation of digital solutions for performing AML and KYC with less time, yet being cost-effective.
High-End Transaction Monitoring Solutions
Businesses will adopt high-end transaction monitoring processes for having a better analysis of AML risks, which will help them locate any suspicious behaviour apart from reducing operational workloads.
Research suggests that total money laundered in a year is close to $2 trillion globally. Increasing regulatory sanctions and FATF Regulations have resulted in financial institutions investing heavily in their AML Systems to ensure they are monitoring near real time risk as well as ensuring that transactions, KYC Data is effectively monitored for data quality and alerted in the event of suspicious transactions.
Setrega, a Next gen centralized AML and Fraud Management product for BFSI industry. It enables banks to monitor and alert suspicious transaction activity proactively on cryptocurrency transaction, Customer, and account level on huge volume of data from multiple sources/channels/formats. Aides banks in understanding of customer risk profiling, and ensuring that subsequent transactional activity is in line with the Risk profiling. It also provides a configurable business rule framework where various alerts can be configured as Rules/FATF Rules generating the alerts and assign it to integrated case management module for end to end tracking and alerting purposes.