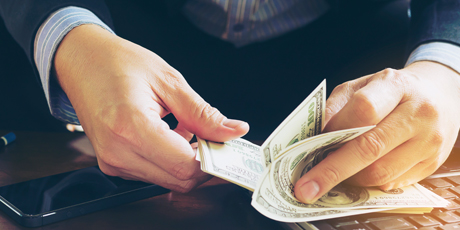 Fraud prevention and other critical security measures for Small & medium size business
Technology advancement is in its apex today, undoubtedly it is a boon for humankind in many aspects, but it brought in some banes as well. With technology becoming sophisticated, so have the instances of financial crimes and money laundering. Financial institutions have become highly susceptible to such crimes. PWC researched in 2009 on 3000 executives in 54 countries regarding monetary fraud in financial institutions. The report says that 88% of U.S companies have experienced monetary fraud, which declines their financial performances. Large scale financial institutions have quite a budget to protect their organization. The problem persists with small and mid-level organizations. This blog will discuss how can small and mid-sized organizations can act regarding fraud prevention. We will shed some light on probable sources of fraud as well!
Probable sources of business frauds
Understanding the type of business fraud becomes easier if one has the idea of sources of financial crimes. Based on reports from various studies we have listed the sources according to priority.
Fraud Customers - False entities do most of the transaction frauds that happen in an organization. Money that is laundered through a complex chain of false identities across organizations and countries is all done through imposters acting as customers.
Digital Third-party Attacks - Electronic and digital means have also perpetrated financial crimes in an organization. Acts like Hacking, slamming, phishing, identity theft is some of the financial fraud that has been difficult to control lately.
Employees - A study by the Association of Certified Fraud Examiners (ACFE) claimed that in the US, financial institutions lose 5 percent of their annual revenue as a result of an employee or staff fraud. Managers in an organization have access to classified information, which in reported cases they have disclosed for monetary benefits.
Detecting Frauds in Your Organization
It is undeniable that financial fraud in an organization can impact its bottom-line. The global regulatory bodies have set up a lot of compliance rules to safeguard FI. However, on the part of the organizations, it is crucial to set up an AML procedure not to qualify the compliance norms but to detect probable threats, monitor transactions, and risk assessment. Now let us discuss some ways by which fraud detection can be done in an organization.
Create a profile of Potential Frauds
The primary step of evading financial fraud is to take a top-notch approach to risk profiling and assessment in the organization's fraud-prone areas. Now, most small and mid-sized organizations miss analysing the organization's overall exposure as it poses the greatest chance of reducing stake value. For example, due diligence and monitoring of procedures might impact the organization's reputation and customer base. Hence there is a need for a one-stop solution that can detect suspicious behaviour based on data mining of historical patterns.
Transaction monitoring
Reinforcing monitoring and controls on transactions both within or outside the financial organization is an important part of preventing fraud. Fraud detection should be a continuous process that will analyse any volume of data over a period of time and identify any suspicious activity in them.
Communicating monitoring activities throughout the organization
A fair part of preventing fraud in an organization is implementing an end-to-end platform where tracking, monitoring and assigning any fraudulent case can be done very quickly. If everyone in the organization knows that there is a functioning tool that monitors the transactions for potential frauds and breach of compliance, they can be ensured of better protection. Consider our AML solution Setrega in performing such monitoring, which acts as an end to end surveillance platform. Our solution has an advanced report and dashboard framework where data is generated in an easy to understand graphical format.
Irrespective of the size of an organization fraud is a significant business risk that should be mitigated as soon as they are detected. Implementing a well- designed AML platform is key to the solution that can significantly reduce frauds, detecting them in an earlier stage. Consider Setrega in this regard. The solution enables banks of every scope to monitor and detect suspicious transactions proactively on areas like transactions within or outside the institution, customer base, and analyse the enormous volume of data from various sources in every format. So, no matter what the size of your organization, Setrega can always prevent frauds in your organization.