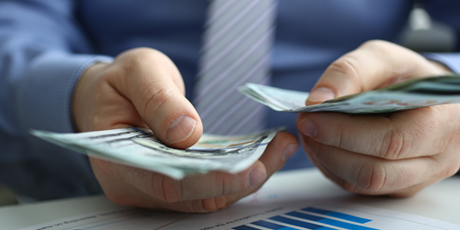 How automated 3-way matching benefits banking P2P and why should you care
Procurement and payment are the two sides of the same coin of business transactions. Procurement involves a series of pursuits for an organization to get essential goods from the best suppliers at a reasonable price. For a bank, it's not a different story. A bank may procure office equipment, technical materials, stationeries, computers, printed collaterals, and the list goes on.
A bank acquires the necessary goods and services; the supplier sends the invoice; the bank makes the payment. End of story, many may think.
But what if during the financial audit, the auditor uncovers the fact that you've paid for the things you have not even ordered? Or that your banks' account payable (AP) department had paid twice for the same invoice? In fact, according to the Ardent Partners research firm, 62% of organizations are still struggling with varieties of invoice exceptions.
Mistakes like these are bound to happen when the visibility bridge between the purchasing and the account departments is broken. Before going into what AI-driven automation can do for banks, the typical way of doing invoicing manually has its drawbacks.
What can go wrong in a manual 3-way matching process?
Many banks have tried to identify and solve the invoice exceptions with the manual undertaking. But setting up manual Procure-to-Pay operations for a process as complex as account payable has proved a failure time and again.
Purchase orders, packing slips, and invoices are generated at various points of time during the procurement
It is impossible to search, find, and match these 3 documents in parallel
Errors become unavoidable when the accounts payable personnel try to reconcile hundreds of consignments at a time
It is unthinkably difficult to track all the previous Procure-to-Pay history during the audits
The case for automated 3-way matching
During the 3-way matching, a Procure-to-Pay automation system uses intelligent data capture to extract information and compares & auto-validates the particulars on the vendor's invoice against the purchase order and packing slip documents. With this airtight matching mechanism, banks can confirm correct vendor payments and ensure compliance with purchasing contracts.
For a deeper understanding, these two scenarios would help. If your bank has ordered 7 printers for the employees for a certain price, in the invoice the vendor has mistakenly charged for 17 printers, and your procurement team has received only 6 assets, what to make of it? Or what if the item price in the invoice exceeds the price originally agreed as per the quote?
But when you have the AI-powered P2P automation and 3-way matching in place, there's no need to worry about this. The system automatically matches the 3 major documents involved in the invoice approval workflow: purchase order, packing slips, and invoice.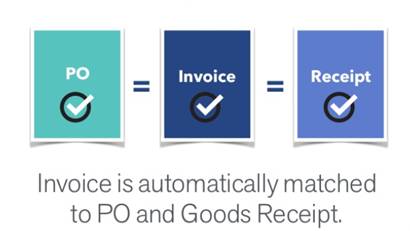 The P2P automation system applies its comparative analytical skills to verify individual pieces of data and make a line-by-line, item-by-item comparison between those three documents. If any discrepancies such as wrong purchase order number, incorrect net amount, missing quantity, wrong supplier name are detected, the system automatically flags the problem and triggers the corrective workflow.
It's not uncommon in a procurement process to receive the goods in several installments. The above example of procuring 7 printers may involve receiving not all of them in a single consignment. When multiple invoices are received for multiple consignments, it is easy to lose track of them. Not with an automated Procure-to-Pay system! Banks can track fragmented invoices from the centralized tracker and ensure all invoices are correctly paid.
Rethink your priorities: it's time for AUTOMATED 3-way matching
Kaptiche Banking is one such P2P automation software module that helps banks with Machine Learning-based 3-way matching. The intuitive P2P automation system effectively resolves exceptions in a structured, cognitive way than traditional manual practices.
Kaptiche Procure-to-Pay system and intelligent data capture can be integrated with your existing ERP and account payable systems to,
Extract data from PO, goods receipts, & invoices to automate manual processes and to avoid errors
Digitally validate the documents against each other to save time and ensure data conformity
Call attention to exceptions and automatically trigger reconciliation workflow
This one important step of AI-based 3-way matching in your account payable process can materialize into thousands of dollars of cost savings, reduced invoice disputes, superfast payment approval, and a long-lasting vendor relationship.
Procure-to-Pay automation doesn't end with this, of course. You might want to discover a whole lot of solutions in Kaptiche Banking and end-to-end P2P automation. For further understanding of how Kaptiche Banking operates, check out the video here.