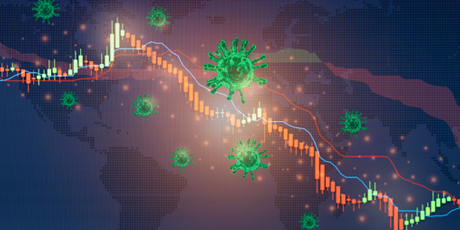 How RegTech investment will impact the industry during this COVID-19 Pandemic
It was not until 2017 that Regulatory technology made its presence felt, and right now, it is the season's flavor. In the years to come ahead, the financial ecosphere will continue to relish its benefits. RegTech facilitates the players of the financial service industry to efficiently and effectively find a solution to compliance and regulatory challenges.
RegTech startups rule the finance industry is right now! They have enabled FIs to handle the pain points like KYC verification, fraud detection, client on-boarding, and compliance monitoring with tools, big data analytics, and artificial intelligence. Providing such benefits, it is not a surprise that global regulators are keen about promoting RegTech an inevitable part in FIs and, in some cases, become their client as well. A positive thing about RegTech startups is that they do not require a license to work, unlike banks, as they are primarily technology providers cutting the regulators the burden of maintenance protocols.
Download our eBook On the Rise
Why is RegTech accelerating so fast?
In the existing fintech ecosphere, there is a rivalry among the financial institutions, while on the contrary, the RegTech initiates cooperative culture. RegTech start-ups today serve almost all B2B offerings, but they do not aim to disrupt existing practices instead of empowering them. Thus, despite feeling threatened, these existing players are now keen to explore new solutions further. As we said earlier, RegTech initiates cooperation, so the whole horde of financial institutions happily works with each other, which saves a lot of costs. This horde includes insurers as well. To explain it in simpler terms, RegTech lowers the technical, physical, monetary cost of an organization by automating the process of regulatory reporting. It is relevant not just in banking, but capital markets, wealth management, and insurance. At its most basic, RegTech investments means better data usage, a workflow to reduce the complexities of reporting or responding to new reporting requirements. It is making better use of existing data to lower the regulation challenges for compliance staff.
Technical groundwork is going on so that in a few years from now, advanced machine learning and AI can be incorporated in RegTech to ease complex regulatory documentation and apply a response.
What do regulators think about RegTech?
RegTech startups do not require a license to function because they fall in the category of technology providers, and hence regulators are exempted from the following legal protocols. Some regulatory bodies are even clients of RegTech providers, who ease out their surveillance work. Many of these RegTech solutions allow financial institutions to not only streamline their reporting but also to have a better perspective of their data collected.
Regulators do have a crucial role in the recognition of regulatory technology. They can encourage the adoption of technology among FIs. Working in collaboration with the RegTech industry will lower the regulatory burden and create transparency in long-term planning as well. If the banks understand what benefits RegTech can bring to their organization, they would be happy to invest in the technology. Any form of certification or approval by the RegTech startups can prove to be equally beneficial.
The FCA takes proactive steps in this regard. The 'regulatory sandbox,' which this authority introduced facilitates testing the products in a live environment, is now an inspiration for other regulatory bodies. Banks now know that they should partner with RegTech if they want a streamlined compliance process.
Setrega, a global RegTech platform for all market participants, will facilitate financial organizations/reporting entities/regulatory authorities to automate their regulatory compliance requirements. It supports multiple regulatory frameworks (MiFID II, EMIR, SFTR, SEC, etc.) for global regulatory authorities (ESMA, FCA, SEBI, etc.) to automate their regulatory requirements.
It provides end-to-end regulatory process automation, during data collection, data validation, report generation, report verification, and report submission. It also helps to monitor and track the entire lifecycle of the regulatory reporting to regulatory authorities.