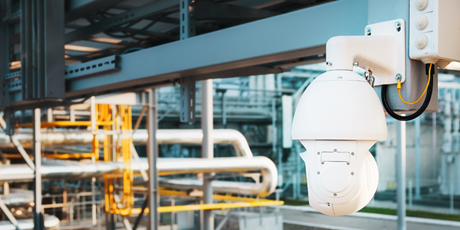 Reporting near misses, sentinel, and adverse events in real-time: enjoy an accident-free workplace with God's Eye
Manufacturing floors are most vulnerable to safety incidents and severe injuries. Factory employees work in dangerous areas that put their lives at risk. Most of these accidents are preventable, and organizations are taking all preemptive measures to stop these unfortunate episodes. That's good.
But ever had a near miss? We all have, especially in industrial settings. Your colleague working in heights may have dropped something as you pass by. It could have resulted in a severe head wound. But you were fortunate enough to miss it. That's a near miss. Potential accidents and collisions like these are common in production floors that workers sometimes do not take it seriously.
God's Eye: an intelligent safety observer
But near misses can be constructive as they provide you with the right learning opportunities. But it is only possible given that you have the right methods in place to report the incidents, collect the data, and investigate near misses.
But how to get the data? Several near misses go unnoticed or unreported to the safety officers. You might want to have a proper risk management solution. There you have got God's Eye, an AI-based, Machine Learning-led, and intelligent machine vision system. It leverages ordinary CCTV cameras to monitor near misses, adverse events, and sentinel. God's Eye triggers responsive reports back to the safety officers for their timely intervention and corrective actions.

Real-time reporting of near misses
In metal manufacturing industries, for example, large sawing machines are used. They are known for their sawing speed and ability to cut metals with dimensional accuracy. But working with them is extremely dangerous as a large number of teeth move through the workpiece. God's Eye takes live video streams as the input of the work in progress. It takes into account the visible blade, the worker's face, and his hand gloves.
With its facial recognition feature, God's Eye relays the physical condition of the employee and let the safety officer know if the worker is fit to work with the machine. God's Eye goes a step further. It precisely tracks employees' hand movement while operating the machine. There are specified limits of the area within which the hand will remain safe from the sharp blades.
But during the cutting of metals, sometimes there will be sudden changes in machine velocity. But if the hand of the employee comes within the perimeter of the unsafe zone, God's Eye transmits warnings and then 'stop' signals. The machinery stops automatically.
Now the safety supervisors gain one more advantage. The live video feed indicates near misses. It reports how a particular way of cutting metals puts employees' safety in danger. Kaptiche cognitive enough to differentiate human hands from mechanical objects. It allows the push bar, for instance, to come in the area of the blades, whereas it automatically stops when the hand is detected. God's Eye analytical engine interprets the data and converts it into actionable insights and reports.
Before the arrival of machine vision, manufacturers had to learn from actual catastrophic events in the workplace to stop them from happening again. But the new approach is predictive: it relies not only on actual accidents but identifies near misses.
There are usually several contributing factors for every near miss or accident. So these dashboards can help safety departments to tap into critical metrics on near misses, adverse events, and even sentinel incidents. God's Eye algorithm will eventually pinpoint the most dangerous practices and flag accidents before they take place.