Kaptiche is a highly advanced AI-based, Machine Vision-led software system. Kaptiche's powerful combination of Intelligent Process Automation and smart camera capture assist industries in their seamless adoption of Industry 4.0. Kaptiche's core expertise lies in its ability to automate end-to-end workflow, improve overall workplace efficiency, and provide timely business intelligence.
In manufacturing settings, Kaptiche's process automation helps shop floors in optimizing quality, increasing labor efficiency, and improving throughput. And it requires no alterations in your existing systems; Kaptiche can easily be integrated and systematically provide industry-leading solutions.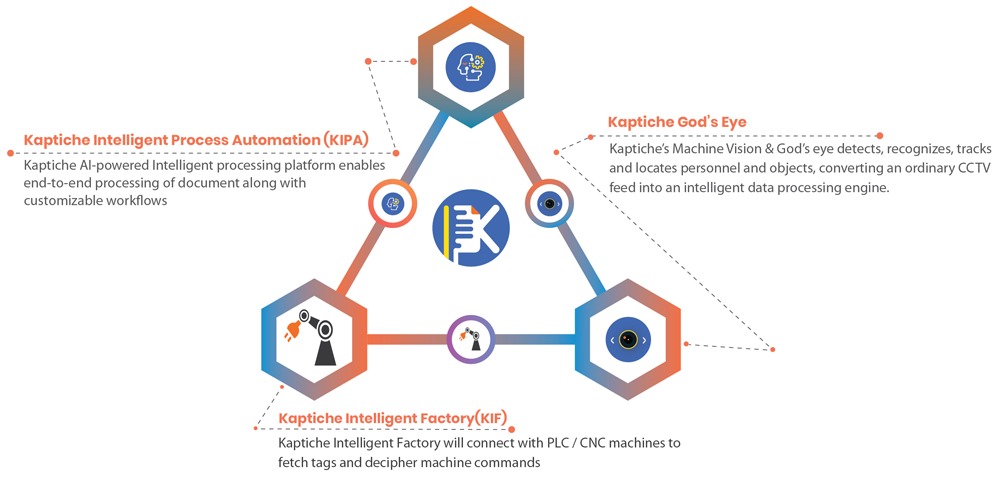 The manual way of doing things costs an undue amount of Dollars. And yet these processes are unproductive and make a big compromise in product quality. In organizations where AI is not practically implemented, operations get siloed. Kaptiche eliminates this disconnect between AI and routine industrial operations.
Modern production units need a wealth of data to get informative insights. Kaptiche makes this its prime goal and helps companies to generate large amounts of data and intensify their utility in an Industry 4.0 environment. Businesses can collect and analyze data now more than ever and optimize productivity and gain business profits.
Most importantly, Kaptiche comes packed to automate an organization's entire process flow. Its resourceful deep learning capabilities and advanced algorithms begin their automating tasks right from the entrance of a company's premises and through the finance departments, shop floors, safety practices, and delivery portals.
Kaptiche scans invoices and purchase orders, supports MIRO creations, Goods Received Notes (GRN) with its data extraction, and digitization features. Manual documentation is completely avoided, and this digital process is quick, reliable, and efficient. On the production lines, Kaptiche helps the team with production planning with its inventory tracking.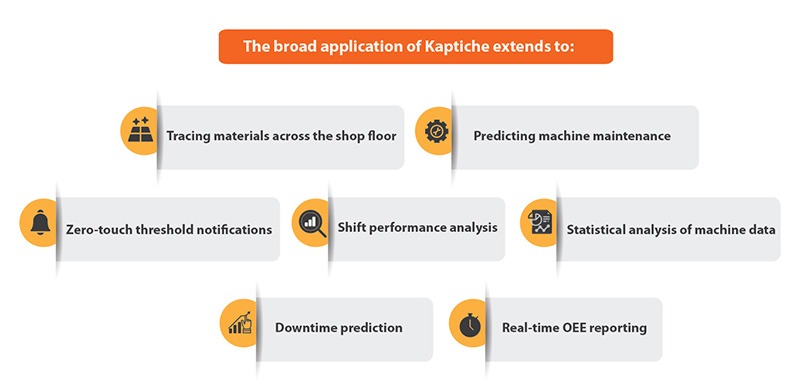 The weighty aspect of Kaptiche is its ability to leverage Machine Vision to render ordinary CCTV cameras into smart data capturing devices. Kaptiche interconnects the machinery with your machine vision platform. It can accomplish real-time imaging for fast-moving production lines and extract production data quickly for actionable insights.
Kaptiche has extensive expertise in ensuring the safety of workers inside the production premises. Its machine vision technology is good at facial recognition. This advantage can be used in enforcing PPE adherence, people count, attendance, employee tracking, and gamification.