Kaptiche Intelligent Process Automation (KIPA) leverages advanced AI and ML to efficiently automate monotonous workflow. By automating documents processes, it assists knowledge worker to remove routine, replicable, and repetitive tasks. KIPA is highly flexible as it can be customized to your particular workflow and radically improves the customer experience.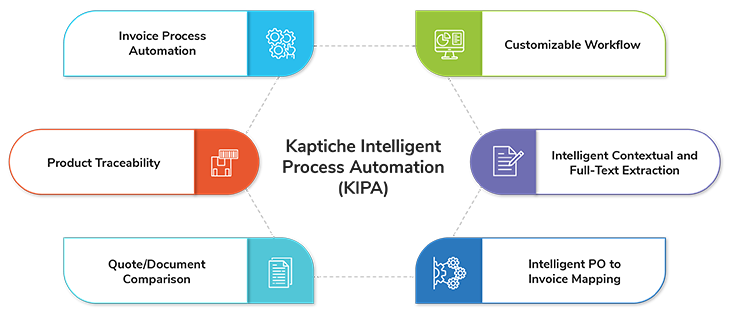 Invoice Process Automation
KIPA's solution for invoice processing involves significantly reducing the time, cost, and the complex processes of capturing, routing, and getting the invoices approved. It facilitates unified and quick access to invoices and payment history for effective vendor relationships.
Intelligent Contextual and Full-text Extraction
KIPA systematically captures full-body documents by understanding the context of the specified texts. To check the leave eligibility of employees, for example, it may take hours to go through paper documents manually. But KIPA understands the context and different types of leave – sick, earned, paternity, maternity, bereavement – and fetches the information and detailed reports as needed.
Intelligent PO to Invoice Mapping
Kaptiche captures invoices from their original sources such as e-mail, printed invoice paper, or fax and extracts the information before importing them into your financial systems. It quickly validates your invoices and checks it against PO to verify the supplier name, quantity, terms of delivery, payment terms, etc. It intelligently maps the purchase order to the invoice and helps you match the PO and ensures the invoice matches the original order.
Product Traceability
Track and trace produced goods and their batches accurately. KIPA takes into account all the raw materials acquired from various sources to manufacture a product. If any undesirable defects were to be found in the final product, the manufacturer could easily track back to the material's point of origin.
Quote / Document Comparison
Kaptiche automatically captures multiple different bidding quotes and compares them against the organization's actual limit of budget. This precise comparison provides the right insights about the feasible quote and the best vendor to choose from.