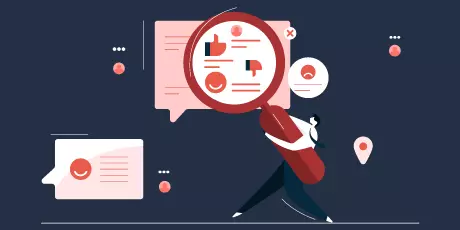 How Sentiment Analysis Can Drive Empathetic Customer Service in Your Contact Center
Good brands know what their customers want, but the best brands understand how they feel! Identifying customers' perceptions about their products or services are crucial for any business to succeed. If your agents know customer sentiments during interactions, they can quickly deliver the empathetic service that customers expect of them.
What exactly is a Sentiment Analysis?
In simple terms, sentiment analysis uses algorithms to evaluate customer conversations by matching words, tone, and phrases to defined sentiments. Further, sentiment analysis allows us to gauge customer perceptions to determine the customer's actual intent.
'AI-powered contact center solutions use sentiment analysis to decode your customer's emotional state of mind in real-time.'
As Market Research Future reports suggest, the global sentiment market will reach a whopping $6 billion by 2023.
What does a sentiment analysis do in customer service?
With predictive analytics, sentiment analysis will work best for contact centers. You can intelligently handle the calls by routing them to the right agent at the right time. Sentiment analysis algorithms help automate ticket prioritization to enhance agent productivity and improve the customer experience.
Social listening helps customer support to identify issues and solve customer problems. Here is a sample scenario of how a contact center works with sentiment analysis.
Step1 - When a customer raises a ticket, the customer sends a query through passive channels (chat, email, or social media)
Step2 - AI analyzes the text expression. The sentiment analysis algorithm will look for specific phrases or keywords to decode the customer's emotion
Step3 - Business rules such as ticket routing or prioritization will be applied based on the customer's state of mind
Step4 - With the above information, the agent will clarify the customer's emotional state and bring an empathetic approach to solve their grievances
Benefits of using Sentiment Analysis in customer service
Now that you know what sentiment analysis is and how it works in customer service, let us explore the prime benefits of implementing sentiment analysis in your contact center.
Personalize your customer engagement - Agents can deliver personalized customer experiences with a clear understanding of how their customers feel during interactions. They can easily win the loyalty of customers when they approach them empathetically, which in turn drives increase in engagement and credibility
Prioritize the customer service tickets - The customer support system can automatically categorize customer support tickets based on priority, using sentiment analysis. Agents can attend to the tickets that are highly critical and deliver the right support
Understand your customers more - Using sentiment analysis in Contact centers will provide real-time insights into customer perception about your services, products, or brands. Understanding your customer's emotions will enable your service team to resolve issues quickly
Boost your brand reputation - Service team can plan their actions and communicate with customers efficiently with a clear understanding of their buyer journey. This can help them avoid escalations, and improve brand preference
Enhance agent engagement skills - Identify the gaps in agent skills to provide supervisors with insights for agent training. You can make your agents understand where they lack in driving empathetic customer service
How does Sensiple improve your contact center journey?
Customer Experience has taken the center stage today with more and more businesses identifying it as the key determinant of their business performance. As the contact center experience is an essential part of the customer experience, the need to make it frictionless has compelled business to rely on sentiment analysis.
Sensiple's contact center platforms and solutions include advanced sentiment analysis that makes it easier to ensure positive customer experiences. Real-time insights into caller sentiments & emotions translate to precise decision making, personalized support, and best business outcomes.
Are you looking to bring such precision into your contact center analytics? Get expert assistance to level up your contact center experience with sentiment analysis. Talk to us today!